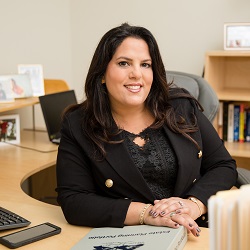 An Estate and Business Planning attorney in Jacksonville, Florida.  For over 10 years, she has been helping individuals and families achieve peace of mind, security and smooth transitions through creative planning. Sabrina builds personal relationships through her client-centered approach to law, while continuing to serve her community in various philanthropic endeavors.
Prior to practicing law, Sabrina spent many years working at her family's pizzeria in Jacksonville. During this time she combined her passion for cooking with the joy of giving diners the best customer service possible, understanding that good food and good customer service was key to a successful business.  After college, Sabrina realized she wanted to translate her love for people and commitment to service into a law practice dedicated to supporting individual and family needs.
Sabrina's extensive experience in business development, consulting, estate planning and elder care is reflected in her publications as well as estate planning seminars she holds throughout Jacksonville and the surrounding areas. Additionally, she has experience serving her community and Florida businesses as general counsel.
Education
Florida International University, J.D.
University of North Florida, International Business, BBA
Professional Associations & Memberships
The Florida Bar
American Bar Association
ElderCounsel
WealthCounsel
Delta Sigma Pi
Network of Women
Publications and Seminars
Author and Presenter:
Estate Planning Basics 101
Estate Planning without Borders:

Planning Considerations for Families with Young Children
Planning Considerations for Young Adults
Planning Considerations for the Blended Family

What to Do After I Do – Estate Planning Considerations for Newlyweds
The First-Generation American Immigrant Family – Traditional Views on Legacy Planning Meet Florida Law
Unmarried Adults – Advance Directives and My Legacy
Planning Considerations for the Blended Family
Estate Planning Matters for Women
Author
Everyone Needs a Comprehensive Power of Attorney – What does that mean?
Published March 2019, Beyond the Green Magazine
The Importance of Planning
Published February 2019, Beyond the Green Magazine