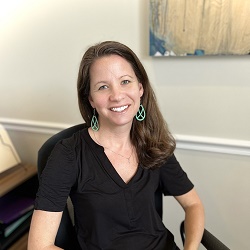 Carrie Lynch is our legal assistant at Three Oaks Law. She is a vital member of our team, bringing with her years of experience in teaching and customer service. Carrie's empathetic nature and ability to multitask make her an exceptional addition to our estate planning firm.
Carrie's background in teaching has honed her skills in communication and organization. She understands the importance of clear and concise communication, especially when dealing with complex legal documents. Her experience in managing a classroom full of students has also taught her how to prioritize tasks and manage her time efficiently.
Carrie's compassionate nature makes her an asset to our team. As a legal assistant, she interacts with clients daily, and her kind-heartedness and understanding persona make her the perfect person to put our clients at ease. Carrie is committed to ensuring that our clients feel valued and supported throughout the estate planning process.
Carrie is excited to be a part of our estate planning law firm and looks forward to serving the needs of all our clients. Her unique background and skill set make her an excellent addition to our team, and we are thrilled to have her on board.